ADFS 4.0, Event ID - 364, Encountered Error During Federation Passive Reque
Query King | Fri, 24 May 2019 at 05:05 hours | Replies : 0 | Points : 100
Category : ADFS
---
Hi Friends,
I am getting below error after configuration of New Relaying Party Trust in ADFS 4.0. Please help.
Exception details:
Microsoft.IdentityServer.Web.InvalidScopeException: MSIS7007: The requested relying party trust 'https://RelyingPartyIdentifierURL' is unspecified or unsupported. If a relying party trust was specified, it is possible that you do not have permission to access the trust relying party. Contact your administrator for details.
Event Log:
Log Name: AD FS/Admin
Source: AD FS
Date: 24/5/2019 4:40:01 AM
Event ID: 364
Task Category: None
Level: Error
Keywords: AD FS
User: Experts-Adda.com\ADFSSVC
Computer: ADFS.Experts-Adda.Com
Description:
Encountered error during federation passive request.
Additional Data
Protocol Name:
Saml
Relying Party:
https://RelyingPartyIdentifierURL

Exception details:
Microsoft.IdentityServer.Web.InvalidScopeException: MSIS7007: The requested relying party trust 'https://RelyingPartyIdentifierURL' is unspecified or unsupported. If a relying party trust was specified, it is possible that you do not have permission to access the trust relying party. Contact your administrator for details.
at Microsoft.IdentityServer.Web.Protocols.Saml.SamlSignInContext.ValidateCore()
at Microsoft.IdentityServer.Web.Protocols.ProtocolContext.Validate()
at Microsoft.IdentityServer.Web.Protocols.Saml.SamlProtocolHandler.GetRequiredPipelineBehaviors(ProtocolContext pContext)
at Microsoft.IdentityServer.Web.PassiveProtocolListener.EvaluateHomeRealm(PassiveProtocolHandler protocolHandler, ProtocolContext protocolContext)
at Microsoft.IdentityServer.Web.PassiveProtocolListener.OnGetContext(WrappedHttpListenerContext context)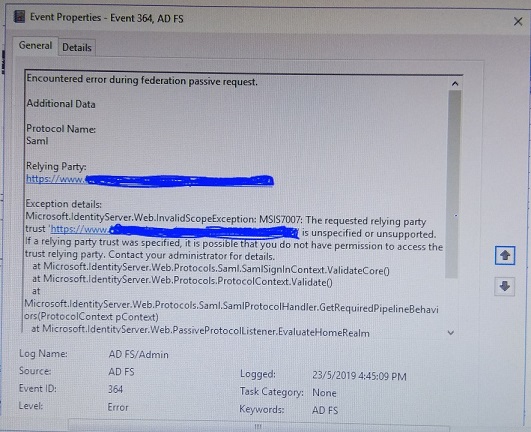 ---
---