Getting Error While Opening Local Group Policy
Query King | Tue, 18 Sep 2018 at 09:30 hours | Replies : 4 | Points : 100
Category : Windows Server 2008
---
Hi Friends,
Getting Below Error While opening Local Group Policy. Please help.
The Group Policy security settings that apply to this machine could not be determined.
The error returned when trying to retrieve these settings from the local security database (%windir%\security\database\secedit.sdb) was: The parameter is incorrect.
All local security settings will be displayed, but no indication will be given as to whether or not a given security setting is defined by Group Policy.
Any local security setting modified through this User Interface may subsequently be overridden by domain-level policies.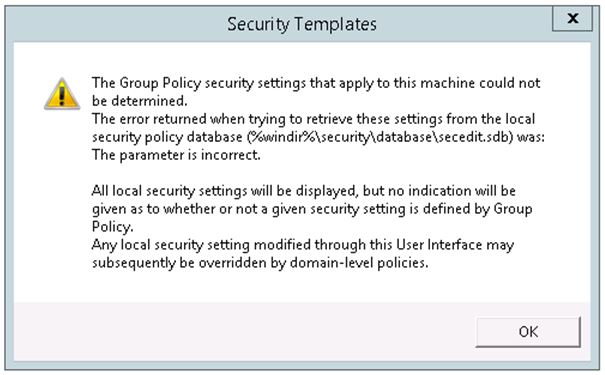 ---
---
Hi,
Please follow below steps.
1. explore %windir%\security\database\secedit.sdb file.
2. Rename it as secedit_old.sdb
3. Open Command Prompt "CMD" and type "GPUPDATE /FORCE".
4. Go to %windir%\security\database there will be new file created with name secedit.sdb.
Hope it help you.
Note: you may loss all of yours local GPO settings.
Thanks Santosh,
Now Error Gone. I am able to open Local Group Policy. Thanks Again !